Thursday, 30 November 2023
LinuxForce Hosting Services
Hosting is the provisioning, running, and maintaining of infrastructure for your organization's computing operations. In the broadest sense, that includes hosting your computing in your own facilities, in a private cloud, or in a public cloud. LinuxForce Hosting Services can help meet your computing operations needs by offering hosting consulting services, hosting infrastructure services, and on-going management and monitoring of your hosting infrastructure.
LinuxForce Hosting Consulting Services

LinuxForce's twenty years of providing systems administration and monitoring services in a variety of settings gives us a depth and breadth of knowledge and experience to help you strategize, design, audit, provision, monitor, backup, upgrade, re-factor, migrate, and/or maintain your hosting infrastructure. And we can do it on any public or private, physical or cloud infrastructure that suits your business situation.
To learn how we can help you plan, re-imagine, provision, or maintain your hosting infrastructure, contact us by e-mail or call us at 610-734-1900.
LinuxForce Infrastructure Services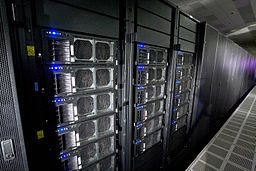 LinuxForce maintains a world-class hosting environment at TierPoint's Philadelphia Navy Yard facility. It is a carrier-class, carrier neutral facility that features four high-voltage PECO power feeds, N+1 redundant electrical design and distribution, multiple, diverse fiber feeds with 10Gb connectivity, 24x7x365 electronic and physical security, and more.
Our Infrastructure Services are built on top of LinuxForce Cluster Services to provide hardware redundancy. That means that every bit of data that changes on your hosted systems is copied to a redundant server in case of a hardware glitch.
Our value proposition is providing incisive maintenance and monitoring delivered with human service. We strive to understand your particular business situation and to co-design with you an infrastructure that will serve your business interests. Our Hosting Services are delivered as a mutually agreed collaboration. So you do not need to learn complicated provisioning systems like Amazon Web Services (AWS) or cPanel. Instead we listen to your business situation and design a Hosting Infrastructure that makes sense for you.
We offer these core Infrastructure Services at the Philadelphia Navy Yard and we can host them on your private or public cloud too:
Kernel-based Virtual Machine by O.T.S.U. / CC BY-SA 3.0

Our Virtual Machine (VM) Hosting provisions custom systems dedicated to your applications. Our platform is built on Linux and KVM (Kernel-based Virtual Machine). We can provision any system that can be deployed by KVM on Debian Stable. If you want a control panel to ease administration of your users, we can provision a VM for Virtualmin Hosting.
Our Dedicated Server Hosting puts hardware that you purchase and own in our secure space at the Navy Yard. Such systems will require on-going maintenance and monitoring which we can provide with our Remote Responder℠ service or you can do it yourself if you have the right staff. For server redundancy, you will need two dedicated servers paired by our Cluster Services.
Our Monitoring Hosting services test that your Internet systems and services are operating at all times and send e-mail alerts if they fail.
Our Backups Hosting stores multiple copies (via rsync protocol) of the data on your mission-critical dedicated servers and VMs.

Web Hosting by Nick Youngson / CC BY-SA 3.0

Our Web Hosting is built on the reliable LAMP (Linux, Apache, MariaDB, and PHP) platform. Thus, we can host just about any site. Our platform supports WordPress Hosting and Drupal Hosting. We often recommend PostgreSQL over MariaDB for improved database operations. Since we build our hosting services on the Debian GNU/Linux operating system, we have thousands of web development libraries and tools at the ready to help meet nearly every need. See our Web Hosting Case Study to learn more.
Our E-Mail Hosting service provides a multi-tiered, anti-abuse service that blocks and removes much of the junk that spammers try to send to you. We can filter your mail and forward it to your mail server or provision accounts where you can send and receive mail on our e-mail hosting infrastructure (we support POP, POP3S, IMAP, IMAPS, and webmail via Roundcube).
Our Custom Hosting services can organize any sufficiently mature free and open source software or your custom Linux-compatible software into a public or private cloud hosting environment to meet your business needs.
LinuxForce Remote Responder℠ Services
Too few hosting providers emphasize the importance of on-going systems maintenance and monitoring. But to be aware of problems, you need good monitoring. And to ensure site security, it is essential that upgrades are proactively applied. At LinuxForce, systems administration is our core competency; it is the basis of our flagship Remote Responder℠ service.

Unless you have a team of skilled systems administrators, we always recommend our Remote Responder℠ service. It is part of our basic backups, web, WordPress, Drupal, and e-mail hosting services. It is optional for our monitoring, VM, and dedicated server offerings.
For more information, download
Remote Responder℠ detailed description and read our Remote Responder℠ case study.
For more information, or if you have any questions, e-mail or call us at 610-734-1900.

Contact Us At 610-734-1900 or sales@LinuxForce.net or Join Our Mailing List